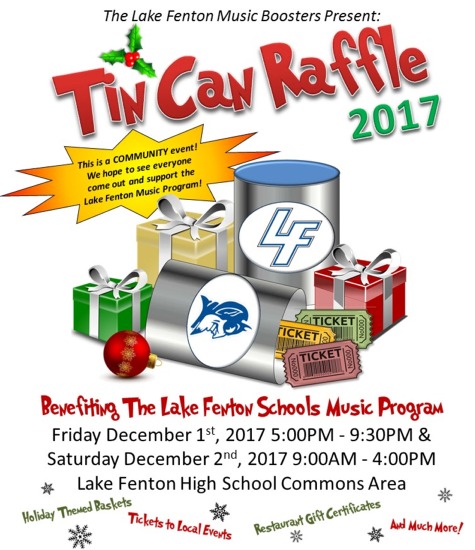 TCR 2016 Highlight Video:
Tin Can Raffle 2017 Flyer
Newspaper Article from Tri-County Times Regarding TCR 2016 (11/30/16)

Newspaper Article from Tri-County Times Regarding TCR 2014
Link to Lake Fenton Bands Website

---
The Lake Fenton Music Boosters are proud to present our 4th Annual Tin Can Raffle to benefit the Lake Fenton Community Schools Music Program on Friday, December 1, 2017 from 5:00PM-9:30PM and Saturday, December 2, 2017 from 9:00AM-4:00PM at Lake Fenton High School. This is a COMMUNITY event that everyone is welcome to attend and will feature great music, prizes and holiday spirit.

This is a unique fundraising event where families and local businesses provide a product or service as a donation and guests place tickets that they purchase into a tin can in hopes to win that prize. It is similar to a silent auction, however, the tickets they place within the cans vary in value based upon the suggested value of the prize.

For businesses that would like to participate but do not have a specific retail product or service to provide, we are also accepting cash donations that will then in turn be used to purchase larger ticket items for the event. As a registered 501(c)(3) nonprofit organization, all donations to the Lake Fenton Music Boosters are tax deductible.

Below is a suggested donor level of sponsorship:

Any donation that you can give is appreciated and will benefit music students in the Lake Fenton Community Schools for many years to come.

If you have a business or would like to personally be involved, please contact Amy Kopicko at 810.714.2515 or akopicko@neonmoonentertainment.com with any question you may have. We are collecting donations and business literature now through November 17th, 2017. As a sponsor of Tin Can Raffle 2017, we will list your business on this website with a link to your company website and we can provide space for any literature you would like to have available on display such as brochures, business cards and a letter‐sized (8½" x 11") flyer. Below you will see our sponsors from last year's event and a summary of the prizes that were donated.

We appreciate your consideration to be involved in our event and look forward to seeing you December 1-2, 2017 at Lake Fenton High School!
Click here to view last year's prize list
.

Thank you to our 2016 Tin Can Raffle Sponsors!
Ryan Gonder
Sean Spicer
Chris Belcher
Vince Cicalo
Michael & Nancy Vance
The Kopicko Family
The Knuth Family
The Postal Family
The Dostie Family
The Broecker Family
Hugh Clark
Janet Gonder
Marc Somers
Dr. Sullivan
The Niestroy Family
Kim Forsberg
Pethick Trucking
David Morey Photography
Bonnie Nelson
The LF Athletic Boosters
Larry Estes
Branching Out Nursery & Landscaping
The Haffajee Group
Kelly Slater
Karen Whittaker/Two Dancers
One Movement
M. R. Electric Contruction, Inc.
Dr. Frydenlund
T. Stone Foundations
2016 LFHS Blue Devils Football Team
Leslee Robinson
John & Lisa Lamb
Scott & Tammy Fray
Rick & Denise Selley
Tom & Carrie Hufton
Fenton Open Books
Joe & Christina Lamb's Grandma
Rick Vanduser / Mug & Brush
Susan Hauer Therapeutic Massage
Barber Shop
Joseph Graves, State Representative 51st District
Lisa Kildow / Hairplay Salon