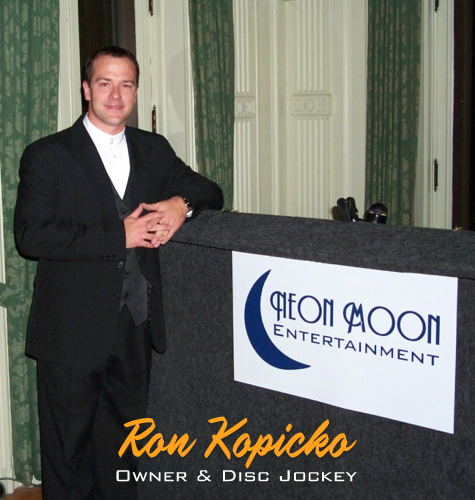 ---
What some people don't realize is that your disc jockey is more than someone who just shows up and plays your music. Through experience, a disc jockey should be able to set the mood via music, function as the Master of Ceremonies, be the one to help keep the flow going and is the one person that all other vendors rely upon to find out what will happen next.

Except for the banquet hall personnel, your DJ is the one vendor who will be at your event prior to the first guest's arrival and is usually the last one to leave.

Here is a little bit about our owner and professional disc jockey Ron Kopicko:
• Graduate of the University of Michigan
• Started as a professional disc jockey and country dance instructor in 1992
• Provided disc jockey services for hundreds of satisfied customers through the years
• Experienced as an announcer for youth football games
• Proud sponsor and "The Voice" of the Lake Fenton High School Marching Band since 2012

"One of the most memorable compliments I received early on in my career as a disc jockey came from a patron at a club I was performing at," Ron said. "This unassuming gentleman walked up to my DJ booth, leaned over to get my attention, then reached out to shake my hand and said with a smile - 'I like your style!' It was a simple compliment, but as soon as he spoke, I recognized the voice. It was legendary Detroit radio personality J.P. McCarthy. It was humbling and yet an extra boost to know that I made it as a disc jockey!"

For more words on what customers are saying about our services, please visit our "Notable Notes" page.